Medicated Lozenges
Robitussin Medicated Lozenges contains two antiseptics which provides soothing relief for sore and irritated throats.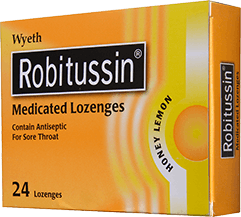 Dissolve one lozenge slowly in the mouth every 2-3 hours or as required. Do not take more than 12 lozenges in 24 hours. Consult your doctor if symptoms persist.
Young children can choke on lozenges keep out of reach of children. Ask a doctor before use if you are diabetic (since these lozenges contain sucrose), pregnant or breast-feeding or have an allergy to any of the ingredients. If you are suffering from a high fever, severe sore throat or a persistent headache, you should consult a doctor prior to use.
Store at room temperature (at or below 30°C).
Each lozenge contains:
Amylmetacresol 0.6mg
2,4 Dichlorobenzyl Alcohol 1.2mg